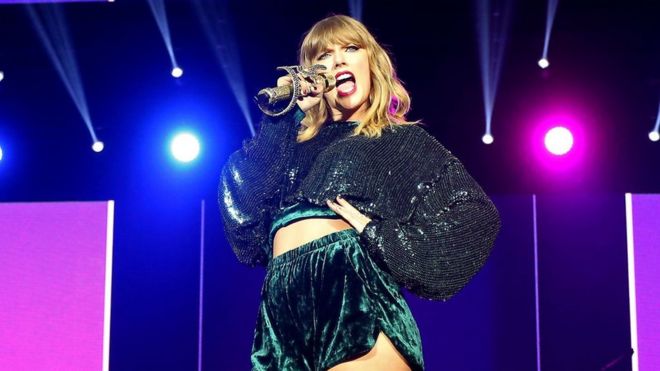 When is the year's best-selling album not the year's best-selling album? When it's by Taylor Swift.
The star outsold every other artist in the US last year – shifting 1.9 million copies of her fifth record, Reputation, in just seven weeks.
But her decision to withhold it from streaming services until December damaged its chances in the chart of 2017's most popular albums.
That's because 1,500 streams now count as the equivalent of one album sale.
Swift accumulated 280,000 "streaming equivalent albums" in the four weeks Reputation was available on Spotify, Apple Music, Tidal and other services. But that wasn't enough to put her ahead of Kendrick Lamar and Ed Sheeran.
Sheeran's chart behemoth ÷ (Divide) was the year's most popular album overall, according to Nielsen Music, which compiles the US charts for Billboard magazine.
The star accumulated 2,764,000 "equivalent album units" – a measure which combines pure sales, streaming equivalent albums and track equivalent albums (where 10 individual downloads count as one album).
Compton-born rapper Lamar took third place, with his fiery, multi-Grammy-nominated album, DAMN.